Services Offered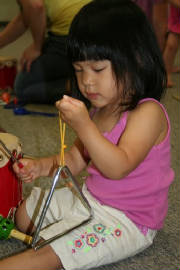 Fun, educational music and movement classes for children with a parent or caregiver.

Families receive a CD and songbook with a broad variety of sounds and activities designed to stimulate musical learning.

Our library of 10 CDs allows your family to enjoy class for three years with all new music each session.

Mixed age classes are developmentally appropriate and allow siblings to enjoy class together.
*For class dates and cost, please click on the "session information" tab located under "Classes Offered".
Special 45 minute presentation for your child's birthday party or special event.
Presentations for children ages birth - 5 years.
Have the party in your home for an additional $10 (for travel) or at the Kedron Fieldhouse and Aquatic Center (you must pay an additional $50 room fee for this location- but receive a $10 discount from us for having it at Kedron).
All instruments and music included.
Parties can accommodate up to 6-12 children. Larger parties beyond 12 can be done for an additional $5 per child.
Cost: $149.00, Contact us today to reserve your date!